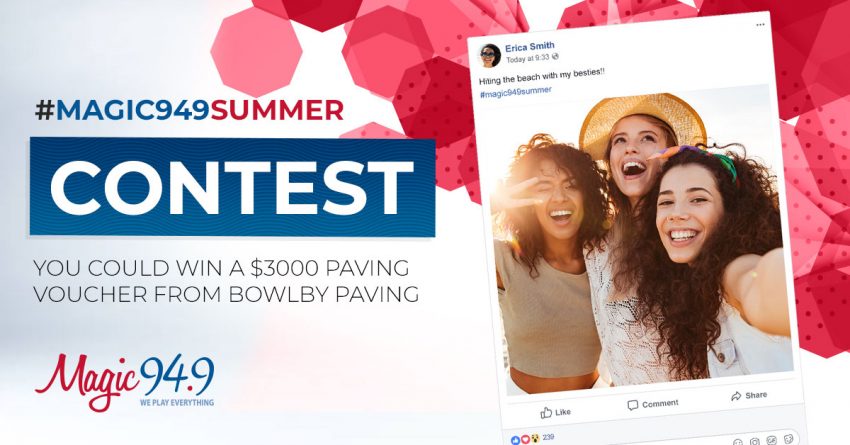 #magic949summer Contest
It's your summer and Magic 94.9 is right there with you for all your adventures!
When you find yourself on the beach in perfect light…
When you're cooking the perfect steak…
When you're in the crowd for the once-in-a-lifetime moment…
We wanna see it!
When you are sharing "Your Summer" pictures on Social Media this summer be sure to include #magic949summer in your post or enter your photo using the form below. You will automatically be entered to win a $3000 paving voucher from Bowlby Paving. The winner will be announced during the morning show on September 2nd.
Prize Details
Bowlby Paving Voucher valued at $3000 + tax.
Bowlby Paving Voucher is valid within the Annapolis Valley.
Bowlby Paving Voucher is valid for credit toward completed paving in the 2022 season as well as new paving projects completed in the 2022 – 2023 season.
If you have a Completed Bowlby Paving project this season you must post your "Summer Fun Picture" to be eligible.
Date of completion is based on availability.
Examples of Paving Projects the voucher could be used for; small driveways, walkways, driveway patching, play areas, or credit toward larger jobs.
Bowlby Paving Voucher may be gifted to a friend or family member.
Bowlby Paving Voucher may not be resold and has no cash value.