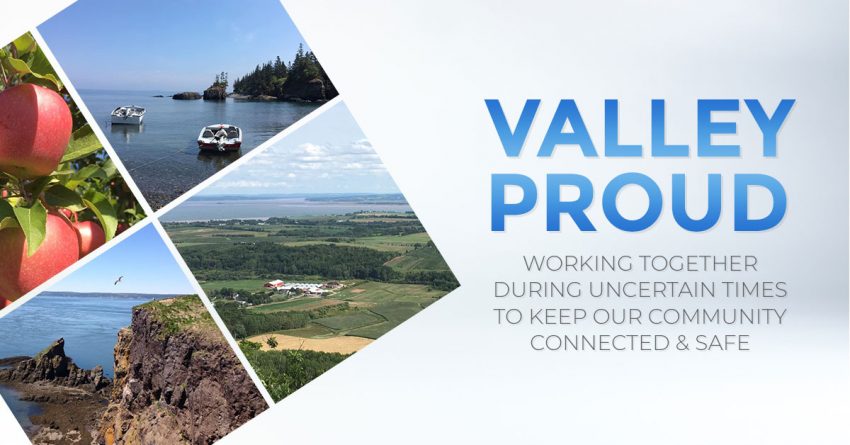 Valley Proud
All of the staff at AVR and Magic 94.9 are proud to be working alongside our business partners and community to help in any way during this uncertain time.
Anderson Sinclair
Trust, comfort, and knowledge, three pillars to finding a great law service. With Anderson Sinclair, you'll find peace of mind with managing partner, Bernie Conway and associate Andrew Waterbury, along with lawyers Randall Balcome Q-C and Lynn Connors Q-C. If you're looking to build trust and a long term relationship, Anderson Sinclair in, Kentville are here to help during these challenging times. Call 1-800-357- 3884. Anderson Sinclair  is continuing to provide you with the trust, comfort and knowledge you deserve with your law service.
https://www.algvip.com/profile/kentville.php
Big Brothers Big Sisters of the Annapolis Valley
For the most up to date information please check out our Facebook page.
https://www.facebook.com/bbbsav/
Boston Pizza
Boston Pizza New Minas is open for curbside pick up & delivery; 4-8pm. 678-4643
https://bostonpizza.com/en/index.html
Brand Pro
Great service, great quality and great prices covering the Maritime provinces! Screen Printing, Clothing, Branding, and customized orders. Visit the showroom at Cambrooken Court, Coldbrook.
https://www.facebook.com/BrandProInc/
Carl's Your Independent Grocer
In our efforts to comply with social distancing we have placed taper markers on our floors to indicate where are our customers should be standing in line. As part of our efforts to keep everybody safe and healthy we will be restricting the number of our customers in our store to 15 at a time. Thank you for your understanding.
https://www.yourindependentgrocer.ca/
Clare Mutual Insurance
As our province begins to re-open for business, Clare Mutual would like to advise that, as of June 8th, we will begin front counter service by appointment only, for document pick up and document signing.  Payment arrangements should continue to be made over the phone or use the drop off box. For any policy discussion or quotes please call or e-mail our Customer Service Agents. For contact details, visit our website  Clare Mutual.
https://claremutual.com/
Cleveland Carpet One Floor & Home
To our valued Customers,
We are continuing to stay open by abiding by the Government's restrictions that have been put in place to keep everyone safe. We will accept orders placed by phone, email or appointments are available by request. We will process your order, call when it is ready for pick up and can do payments prior to or upon arrival. We will limit the amount of people given access to the store at one time, require hand washing upon entry and a minimum separation from staff of 2 meters. If you have any questions, concerns or feedback on how we can better serve, please do not hesitate to reach out to us at 902-678-4700 or clevelandcarpetone@hotmail.com. We thank you for your cooperation and understanding during this difficult time. Stay Safe!
Clevelands Carpet One,
Debbie, Don, Peter, James and Andrew
https://www.clevelandcarpetonekentville.com/
Cleve's Source for Sports
Cleve's doors are closed, but you can call or email to arrange contactless pick up, or set up an appointment for personalized shopping. Contact your local store to set up an appointment. All precautions have been taken to make sure guidelines & procedures are in place to keep shoppers and staff safe.
https://www.sourceforsports.ca/en-CA/Stores/39-Cleves-New-Minas-Source-For-Sports.aspx
Coffill's Auto Repair Ltd.
Coffill's Auto Pro is open to make sure you can stay on the road doing what you do best. From foreign to domestic Coffill's can fully service any make or model. Because we depend on you – you can depend on Coffill's Auto Pro to have your vehicle running at peak performance. Coffills' Auto Pro in Canning, servicing BMW, Mini Coopers, Mercedes, and other European makes and models, plus domestics!
http://www.napaautopro.com/auto-repair/nova-scotia/canning-coffill-s-auto-repair-ltd/
Copperstone Financial
We are committed to supporting our clients and their employees during this challenging time. The office is now re-opened with limited public access.  We have implemented steps to create the necessary social distancing, and sanitizing protocols to protect our staff and operations. Please do not hesitate to reach out with any support you may need; call 1-800-363-3043 or email: info@copperstonefinancial.ca
http://www.copperstonefinancial.ca/
Connell Septic Services
Connell's Septic Services, Annapolis Royal offers year long septic services and with over 35 years of experience you can depend on. Offering septic tank unclogging, septic tank inspection, residential septic tank cleaning, industrial septic tank cleaning, holding tank cleaning, farm septic tank cleaning, commercial septic tank cleaning, 24 hour septic tank service; call: 1-844-454-2314
https://nslocal.ca/listing/connells-septic-services-limited/?v=3e8d115eb4b3
deVries Barnard & Associates – Royal LePage
Please be advised that our physical office locations are closed. Our agents & staff are currently operating in a remote work environment to continue to serve your real estate needs. If you have any questions or concerns, please don't hesitate to reach out to us.
http://agents.royallepage.ca/valleyrealestateteam
D&M Service Centre
Until further notice D&M Service Centre we will be closing at 8pm. Our laundromat will be closing at 7pm. Our staff has been doing an amazing job keeping all surfaces clean, including the gas pumps as much as possible. We have a great staff team that is working hard to keep everyone healthy. Thank you again to all of our amazing customers!
https://www.ultramar.ca/en-on/find-services-stations/kentville/nichols-avenue/
Fairway Insurance
Due to the concerns involving COVID -19, we have decided to take a proactive approach and have implemented new measures to protect our staff and clients. Effective immediately our offices will be operating with a reduced staff, most of whom are working remotely. We are still available to you, our valued clients and prospects, by calls and emails only. Our availability will now be 8:30 am – 5:00 pm, Monday to Friday until further notice. We appreciated your continued patience during this changing time. We are available for all your requests by phone at
1-888-245-4741 or via email at fairway@fairway.ca. For after hours emergency claims please call 1-902-308-0617. We sincerely apologize for any inconvenience this may cause.
https://fairway.ca/
Foster's Fire & Safety Ltd. 
Foster's Fire & Safety is open Monday to Friday 8am-5pm, with no more than 5 people allowed in the store at one time. For the safety of our staff and customers, we would appreciate only one person per company coming into the store at one time. If possible, you can phone orders in and we can let you know when to pickup or if possible, we can deliver within a reasonable distance. 902-538-7214
http://www.fostersfireandsafety.com/
Fraser's Pro Home Centre
To our Valued Customers:
Thank you for your co-operation as we continue to serve the needs of our communities with ongoing efforts to be responsible and considerate of each other. Our great staff have been diligent, following guidelines and working safely. We continue to enforce a 6' social distancing rule and ask you to please respect the same. If you would prefer not to shop in store, we remind you that we have options. We have always provided a delivery service and accept several forms of payment including e-transfer. We can place orders outside your door or in your driveway or job site. We are also able to take phone/pick-up orders. We can pick your order in advance and have it ready at our front door, so you do not need to spend time looking. And it goes without saying that our knowledgeable staff are always happy to discuss your project needs over the phone or via email. Please feel free to email orders, request for quotes, or any other inquiries to info@frasers.ca (or email directly to the salesperson you normally interact with) or call our stores at:
Berwick 902-538-3183 – Kingston 902-765-3111
Kentville 902-678-8044 – Bridgetown 902-665-4449
Annapolis Royal 902-532-1500
Please know we are very appreciative of your understanding as we do our best to serve the needs of our valley community at this unprecedented time. – Staff at Frasers
https://www.frasers.ca/
Fuel for Less
OFFICE CLOSED TO PUBLIC
To our Valued Customers:
In an effect to help limit the spread of the COVID-19 virus, but still provide an essential service, we will be closing our office to the public until further notice. We will still take orders over the phone and email, but are trying to eliminate contact between customers/staff/drivers as much as possible. CASH at the door will no longer be accepted as payment until further notice. Please contact the office to discuss other payment options. To place an order, please call one of the following numbers: 902-538-0677 or toll free; 1-888-338-0331, or  email your order to: fuelforless@eastlink.ca.
This has been a very difficult decision and we sincerely appreciate your understanding during these trying times.
Management & staff
Fuel for Less (2012) Ltd.
https://www.fuelforless.ca/
Happy Harry's New Minas
Building or renovating? See Happy Harry's first for great products at a great price. We have a huge in-stock selection of the latest building supplies with new inventory arriving daily. We encourage social distancing, hand washing and also want to salute our first responders and medical personal. Happy Harry's in New Minas is locally owned and valley proud.
https://www.happyharry.com/happy_harrys_new_minas
H.E. Armstrong – Valley Burner Service
H.E. Armstrong Mechanical Ltd. is a full service plumbing and HVAC company located in Greenwood, Nova Scotia, Canada. Experienced in all types of projects from residential, commercial and industrial to new construction and renovations. Quotes are available for projects based on Bid/Spec and/or design build. Contact us today!
https://www.valleyburnerservice.com/
Home Hardware Building Centre – Rafuse, Berwick, Rockwell, & Maple Leaf
Home Hardware is deemed an essential service, so we are currently OPEN, but will be temporality closed, Sundays. Please be respectful of SOCIAL DISTANCING of 6′. Our team is currently respecting these measures and we ask that you respect these measures too.If you prefer not to shop in the store, we have other options for you:
-visit homehardware.ca to shop online and your item(s) will be shipped to store, and you can then pick up when it is safe to do so.
-Give us a call (902) 542-2211 to place an order. We can take Visa & Mastercard over the phone. Pick up in-store or we delivery your items to your car in the parking lot if it is safe to do so, or we can do curb side delivery for a small fee.
Please do not visit our stores if you feel unwell, sick or have travelled out of the country and arrived home in the past 14 days. Please only have 1 person per vehicle to come into the store to limit contact. We would like to remind you that we are here to support our community. However, please visit our locations for essential, vital products. We are currently DISCOURAGING BROWSING at this time until further notice.
Thank you for you support and understanding during these uncertain times.
Rafuse Home Hardware Building Centre – Wolfville
Berwick Home Hardware Building Centre
Rockwell Home Hardware – Kentville
Maple Leaf Home Hardware Building Centre – Canning
https://www.homehardware.ca/
H&R Block New Minas
Simply drop-off your documents during office hours and a Tax Expert will call you to complete your tax return and discuss next steps.
https://www.hrblock.ca/stores/8748-commercial-st/
Joe's Food Emporium
In the interest of the safety of valued patrons and employees, Joe's Food Emporium in Wolfville has reopened and is offering take out, and delivery. Joe's is encouraging social distancing by placing on-line ordering.and delivery from 2-10pm, 7 days a week. Joe's also has debit at the door and you can also pay over the phone, and with take out and curb side delivery they follow through with the rules of social distancing. View Joe's extensive menu and order online, or call 542-3033. The management and staff at Joe's thank you for your understanding and for supporting local.
https://www.joesfoodemporium.ca/
Kentville Toyota
Kentville Toyota is now open Monday to Friday; 8am-5pm, and 10am-2pm on Saturday. Our priorities and obligations are to the health and safety of our customers and staff. We are following the direction of public health officials and have taken the following measures:
– Education and Information Regarding Hand washing for our staff and customers
– Hand sanitizers for customers at entrances and waiting areas
– Using disposable gloves during each vehicle interaction for our technical staff
– Disinfectant high touch areas in each vehicle we have on display and in service
– Staff and guests must maintain a 2 metre distance between them in our premises
– We have eliminated our communal hot beverage station
– We have suspended our shuttle service
– We will not be accepting cash payments
Demonstration drives will be limited, and you will be directed to drive on your own. We will be thoroughly disinfecting all surfaces before and after any contact with our vehicles. Please know that our lack of handshakes, and the measured distance between us isn't any sign of disrespect.
https://www.kentvilletoyota.com/
Kings Honda
Kings Honda remains open for business to serve you while also adhering to the Health Protection Act Order set forth by the Premier, Hon. Stephen McNeil, and the Chief Medical Officer of Health, Dr. Robert Strang. Service and Parts Advisors are on-site and ready to service your vehicles. We recommend calling ahead to book an appointment at (902) 679-0029, or book with us online.  Should you need a new vehicle during this time, we have also coordinated sales staff both on and off-site to help you. Shop by phone, on the web, and in person by appointment – just call (902) 679-0029. Our full inventory of new and pre-owned vehicles is conveniently listed online.  As always, the safety and well-being of our community is of utmost importance to us, and we thank you for your continued support during this challenging time.
http://www.kingshonda.com
Kings Refrigeration
Kings Refrigeration will continue to be at your service. Please be assured that we will be constantly reassessing and adapting our processes to adhere to the latest updates and health guidelines. If you have any questions or concerns, you can email us at: admin@kingsrefrigeration.com.
https://www.kingsrefrigeration.com/
Kings SPCA
The Kings SPCA is closed to the public for our adoption, volunteer and public spay/neuter programs effective immediately. We will continue to operate our shelter with a core group of essential staff to assist and accept animals in urgent and emergency situations during this time. We will be relying on our existing foster base to assist where needed. We will post when additional foster families are required. Staff in Kings are available to respond to your inquiries at (902) 538-9075, kings@spcans.ca or Facebook, 11 am – 4 pm daily.
https://www.novascotiaspca.ca/shelters/kings-shelter/
Kingston Lions Club
The Kingston Lions Executive has suspended ALL Kingston Lions Club activities and events until further notice. This is necessary due to our concern for the safety of our community, patrons and club members.
https://e-clubhouse.org/sites/kingstonns/
LIV Fashion Boutique and The Swimwear Hut
Spring is HERE! LIV Fashion Boutique and The Swimwear Hut are so excited to share all the newest styles, collections and fashions for Spring 2020, even if it is done virtually! Be sure to check out social media,  sharing gorgeous new styles and some of the best spring fashions they have ever seen! They hope some will even brighten your day! Stay safe, stay in touch! Direct message with any questions! They can't wait to see your smiling faces again soon!
https://www.swimwearhut.ca/
https://www.facebook.com/livfashionboutiquekentville/
MacKay Real Estate
Although their office is closed to help flatten the curve, staff will be working on-site and remotely so they can continue to meet the needs of clients. Currently, MacKay Real Estate asks clients contact them via phone, text, or email.
They ask that buyer clients be patient as some sellers may opt not to show their homes at this time.
Buyer clients will need to be pre-approved by a lender before being granted viewing of homes.
Sellers will be asked to disinfect high touch areas both before and after showings.
MacKay Real Estate will provide gloves for clients entering properties for as long as they remain available.
Open Houses will not be conducted by our Realtors® until further notice.
MacKay Real Estate will be promoting the use of electronic/digital resources such as digital signatures, video walk throughs of homes and virtual tours.
They will ensure safety standards are meet or exceed those set by the provincial government, federal government, CREA and NSAR, so you can maintain your confidence in MacKay Real Estate.
As always, MacKay Real Estate is committed to delivering excellent customer service and the best possible experience for their clients. They will continue to monitor this situation over the upcoming hours, days, and weeks and will make changes as needed to help reduce the spread of this virus. MacKay Real Estate values your business, but value your health and that of their employees more.
https://mackayre.com/
Meadow brook Meat Market
Meadowbrook Meat Market has home delivery is available to the following areas, on the following delivery days;
Annapolis Valley & Halifax Regional Municipality Tuesdays & Fridays of each week
South Shore & Digby areas Thursdays of each week
Minimum order of $150.00 plus $5.00 delivery charge is required for home delivery service.
48 hours notice is required on all orders.
https://www.meadowbrookmeatmarket.com/
Municipality of Annapolis
In light of announcements from the province regarding COVID-19 Pandemic and the continuing risk from the virus, meetings of Council and Committees will be conducted on ZOOM video and posted on our webpage within 24 hours.  The office buildings will remain closed to the public, until further notice. Information Technology staff are working have set up partial services at staff homes enabling staff to work from home, with processes in place allowing citizens to continue to have access to staff through phone and email. The phone number remains the same: (902) 532-2331
https://annapoliscounty.ca/
Municipality of the County of Kings
Municipality of the County of Kings, Land of Orchards, Vineyards and Tides; 181 Coldbrook Village Park Drive. Serving all town and villages in the County Of Kings.
https://www.countyofkings.ca/
North's Collision Centre
Dear Valued Customer,
We at North's Collision Centre-CSN continue to monitor developments in these uncertain times. It certainly presents many challenges for our industry. We are OPEN for business but the health and safety of our customers and employees is our first priority. We are avoiding using the  public entrance to our building. Please call us if you have had an accident and/or have put in an insurance claim, or just need an estimate and we will look after this for you. We will continue to follow the Covid-19 situation closely and follow the direction provided by our government and its health professionals. Thank you and stay safe. North's Collision Centre has implemented health and safety protocols so we can continue to serve you while you maintain your physical distance.  Starting with our pick up / drop off service. One of our customer service specialists will arrange to have your vehicle picked up from a location of your choice. We will bring it to our facility and once the repairs are completed, we will thoroughly clean and sanitize your vehicle before coordinating a time to drop your vehicle back to you. It's that easy! Message us for details. We're here if you need us.
Sincerely,
North's Collision Centre- CSN
http://www.northsautobody.com/
Nova Scotia SPCA – Thrift Stores
The Nova Scotia SPCA has prepared a coordinated response to protect our employees, volunteers and the public at large from transmitting novel coronavirus (COVID-19). Effective Tuesday, March 17th, SPCA Thrift Stores throughout the province will remain CLOSED and will not be accepting donations until further notice. We will keep you updated as our local situation evolves so hold onto those Spring Clean donations – every little bit of your support helps us make a difference for local animals in need.
https://www.novascotiaspca.ca/how-you-can-help/spca-thrift-stores/thrift-store-locations/
On the Hoist Service Centre Ltd.
On the Hoist Service Centre provides maintenance and repairs, for all vehicles both foreign and domestic. We also offer tire sales and installation, tire storage, trailer inspections, trailer hitch sales and installation, U-HAUL rentals and moving supplies sales, Highway 1, Wolfville. We wish to inform our customers that as of Monday March 23rd, we will not be having a waiting area for customers until further notice. Our office will be open for drop offs and pick ups only. We will also not be accepting cash payments until further notice, we will still be accepting payments by credit and debit. We realize that these changes may be inconvenient, we are simply trying to ensure the safety of our customers and staff during these uncertain times.
https://www.onthehoistservicecentreltd.com/
Paddy's Brewpub Kentville & Wolfville
We are open! Changes we are making now for your safety and convenience:
Offering Curbside Pickup 12pm to 9 pm and Delivery 4pm to 8pm. We are not accepting walk-ins at this time.
Our Craft Brew is now available in a recyclable containers. Please keep your Growler bottles, we will bring that back when we all get through this!
Beer and Wine is now available for pickup or delivery.
Of course our New Online Ordering!
From all the staff here, thank you to our customers for your patronage. We are here to serve you!
https://paddyskentville.ca
People's Gospel Hour
Join us every Sunday morning from 6:30 – 7am on AVR.
http://tpgh.org/
Reid Jewellers in Kentville
D.M Reid Jewellers is open for business in store and online; https://dm-reid-jewellers-ltd.myshopify.com/ and start your shopping! See our policies for full shipping details. In store pickup is also available Monday thru Friday 10am – 3pm! Feel free to drop us an email if you don't see exactly what you are looking for because we have lots of inventory and will help you find it! Email: davereid@ns.aliantzinc.ca
Thank you to all of our customers for your patience and continued support!
https://www.reidjewellers.ca/
Royal Canadian Legion, Kingston
The Kingston Legion Br. 98 is closed for regular daily business and events. The office will remain open, Mon-Fri 8am-4pm for administrative purposes until further notice. If you are a veteran or member in need of assistance, please call 765-4920. Please take care, and we will
re-open as soon as it is safe to do so.
https://www.facebook.com/pages/category/Nonprofit-Organization/Kingston-Legion-Branch-098-812795632113940/
Royal LePage Atlantic
Please be advised that our physical office locations are closed. Our agents and staff are currently operating in a remote work environment to continue to service your Real Estate needs. If you have any questions or concerns, please do not hesitate to reach out to us. Stay safe and healthy everyone!
https://royallepageatlantic.com/
Shay TIRECRAFT
With all proper social distancing and sanitizing required in place we are open for business. Please feel free to give us a call we would be more than happy to help you out and book you an appointment for servicing on your vehicle or any other needs. Although times are a bit different then we are all use to please Be safe and enjoy this time with your with your loved ones.
https://shaytire.com/
Sole Provider
The College of Pedorthics of Canada has instructed Canadian Certified Pedorthists to cease all non-essential pedorthic services.
As of 5pm Thursday March 19, 2020, Sole Provider will be closed to walk in traffic. All orthotic appointments will be rescheduled to April 16, 2020 or later. Orthotics already in production will be mailed to patients upon completion, followed by a phone consultation with wearing instructions. Urgent services are still available by physician request. These include cast boot fittings and post-operative/injury knee braces. These items must be booked by calling (902) 678-0020 to arrange an appointment. Thank you to all of our patients and customers as we deal with this challenging situation.
Jeff and Julie Skaling
http://soleprovider.ca/
Speedy Auto
Speedy Auto in New Minas is here to support our community during these trying times. Our Speedy locations are open to support those in the community that have essential travel requirements and need to get their car serviced and maintained. This is our way of keeping front line responders, emergency and service vehicles safe on the road and assisting others in need.
https://www.speedy.com/shops/new-minas/en/
Saint Mary's Bay Gardens
Saint Mary's Bay Gardens in New Edinburgh; next to Weymouth is open for the season on. They will be practicing social distancing and using wash stations to ensure the safety of customers and staff. Come check out their 5 greenhouses full of baskets, annuals, perennials, fruit trees and shrubs. They are happy to be serving you in their 29th year of business. Open daily from 9 to 7.  Call: 902-837-7413
https://stmarysbaygardens.webs.com/
TrueStyle Furniture
We are open 11-6 Monday to Saturday and 12-5 Sunday. Other than that it's business as usual, we are not making any special requirements for customers to enter. We have hand sanitizer at the door, but it's optional. Clients that prefer to shop remotely are encouraged to visit our website where you'll find our complete selection of appliances, and call us: 902-242-3497 (local), or toll free: 1-855-247-3497 to check availability.
http://www.truestylefurniture.ca
Valley Credit Union
Hello, everyone. This is Len, CEO at Valley Credit Union. I want to ensure all our members are aware that we made significant changes to how we serve you in order to comply with the requirements put in place to slow the spread of COVID-19. Teller services have been suspended in our smaller branches and are available only in New Minas, Cambridge, and Greenwood between 11 am and 3 pm. Many of our members will be receiving government issued cheques this week. To ensure everyone has immediate access to these much-needed funds, we are extending hours this Friday for seniors between 10 am and 11 am and 3 pm and 4 pm in New Minas, Cambridge, and Greenwood only. We must all do our part to help slow the spread of the virus. For updates on how we're responding, and what we are doing to support you through these challenging times please call your branch, visit our website at valley credit union dot com, or follow us on facebook or twitter.
We are in this together. Be safe.
https://www.valleycreditunion.com/Home/
Valley Ford Kentville
Valley Ford Kentville has reduced its business hours. Service and parts will be open until 3 pm daily and sales/admin until 4 pm. We will be closed to all departments on Saturday. We are adhering to government guidelines; sanitizing vehicle touch points before and after, maintaining social distancing, staggering essential service and repairs to ensure no more than 5 people are in an area together, and of course proper hand washing is front and center. We have reduced our staff to reduce risk to our team and clients. We are offering pick-up and delivery to help aid in the process. Should you have a vehicle emergency outside of these hours, please email: service@valleyford.ns.ca. We are available to assist you. Thank you for your continued support during these unprecedented times.
https://www.valleyford.ca/
Valley Waste
The Management Centres are open special hours to accommodate public customers.
Kentville Management Centre:
Curbside trucks, commercial customers and those with accounts continue to access the site Monday-Friday between 8:00 am – 4:00 pm only.
Public access in the evening, Monday – Friday between 4:30 pm -6:30 pm beginning on Tuesday, May 19.
Access is limited to 5 vehicles at a time. Staff will be at the gate to restrict access and a line-up formed on the Donald E .Hiltz Connector Rd.
Customers must pay with debit or credit card – no cash.
Any remaining curbside collection vehicles are given priority.
Lawrencetown Management Centre:
Curbside trucks, commercial customers and those with accounts continue to access the site Tuesday, Wednesday and Friday between 8:00 am – 4:00 pm only.
Public access each Friday during regular hours between 8:00 am -4:00 pm beginning on May 22
Public access is limited to 5 vehicles at a time.
Customers must pay with debit or credit card – no cash.
The Management Centres are closed on Saturdays to all customers.
Video World
During the COVID-19 period, Video World has changed how we do business. Our service center and car installation center's are temporarily closed. If you need a new TV or appliance we are open Tuesday to Saturday from 10 till 5 with limited access and customers will be required to use our provided sanitizers and respect distancing. We would encourage you to arrange your purchase by phone and have us deliver it to your home. Please check our web site or Facebook for updates. Video World TV Stereo and Appliance Center, New Minas.
https://www.videoworld.ca/
Vogue Optical
During this difficult time, we understand that many children and families are getting creative and looking for opportunities and projects to keep children challenged and having fun at the same time while social distancing. For the next several weeks we will be doing an Eye Spy drawing contest. This weeks prize is a Toys R Us Giftcard. Keep checking back on what the new challenge is and enter as many times as you like! Winners will be chosen at random and contacted directly. This week is to draw the view out your favourite window. Animals. Buildings. Ocean. Neighbors? What does your "eye spy". Check out our website for details. Categories for all ages… even the big kids!
http://www.vogueoptical.com
Wilson Fuels
Wilson Fuels are temporarily providing emergency service only, such as 'no heat or hot water' situations. We will contact all clients to reschedule non-emergency work. At this time, fuel delivery will continue as normal. We also request that clients make payments over the telephone or online through MyAccount or Online Banking instead of coming into the office.
https://homeheating.wilsons.ca/
Wine Kitz
Wine Kitz New Minas has been providing wine making kits and services longer than any other wine kit store in the Valley.  Locally owned and operated, Wine Kitz are pioneers of in-store winery services, and in bringing legalization of U-vint to Nova Scotia.  Wine Kitz is open for business,  but if you're not comfortable coming into the store, you can call in an order and pay by credit card, or email an order, and Wine Kitz will contact you when the order is ready for payment & a pick up time. Wine Kitz offers carry out serve, so no personal contact is needed. If you have wine to bottle or wine kits to start, you can contact Wine Kitz by phone to discuss winemaking options. If you currently have a wine in their winery, please know that the wines are stored properly and will be fine for as long as they are on location at Wine Kitz.
http://www.winekitznewminas.ca/