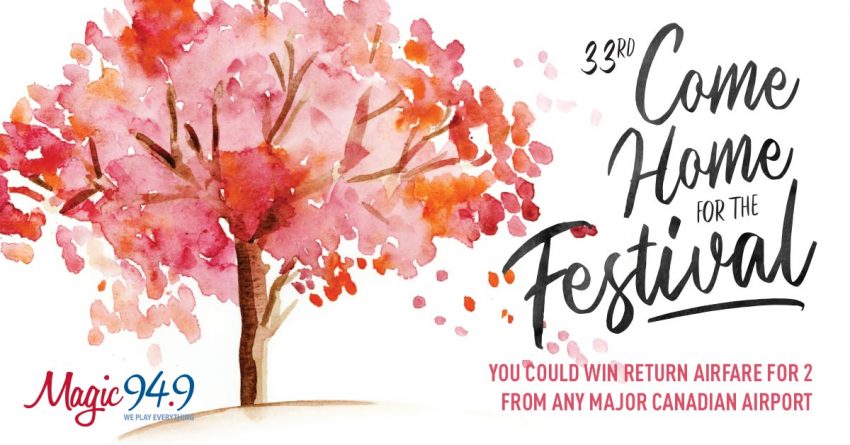 Come Home for the Festival 2019!
It's BACK for the 33rd year. We want to bring your family or friends from outside the province home to you, for the 87th Apple Blossom Festival! It's really easy, just fill out a ballot at any of the 20 participating sponsor locations across the Annapolis Valley by May 3rd, and on Wednesday May 8th, ONE lucky person will win return airfare for two from any major Canadian airport, to bring loved ones 'home for the festival'!
Please ensure you read and understand the rules & regulations so your ballots count! 
Come Home for the Festival  Rules and Regulations 2019
1. To enter, visit a participating sponsor, fill out a ballot and deposit in ballot box at participating sponsor locations. Maximum 5 ballots per business during this contest. Any more will be disqualified.
2. Contest closes end of business day on Wednesday, May 3rd 2019.
3. AVR, Magic 949, CKDY, Maritime Travel, and supporting sponsors will not be held responsible for late, lost, illegible or destroyed entries, or any print or administrative error of any kind in connection with this contest.  NO PURCHASE IS NECESSARY.
4. You acknowledge that AVR, Magic 949, & CKDY has the right to reproduce, publicize and broadcast your name, address, voice, and your picture.
5. You acknowledge that the radio stations & participating sponsors have the right to meet with you and the winners during the time spent in the valley for the Apple Blossom Festivities.
6. Grand prize draw will take place on Wednesday May 8th 2019.  Winner will be announced during the AVR & Magic 949 Morning Shows. Following the draw, winner will be notified by phone. Travel arrangements will be made using the services of Maritime Travel.  Some restrictions may apply.
7. Grand Prize: Return trip for two (2) people to Halifax, NS from any major Canadian airport.
8. Prize flights will be round trip airfare from the closest Major Canadian airport to the winner's home to Halifax, NS.  Winner and his/her guests must arrange and pay for their return transportation between their residence and the closest Major Canadian airport.  Winner and his/her guest must pay for any checked luggage. All tickets, offers, events, age ranges, services, attractions and entertainment of the Apple Blossom Festival are subject to change without notice. Grand Prize is valid for travel that corresponds with the 87th Annual Apple Blossom Festival, with a maximum of 2 weeks stay once in the province.  Grand Prize flights must be booked as soon as possible using the services of Maritime Travel Valley locations and seats are subject to availability.  Grand Prize must be taken as offered and cannot be substituted for cash or credit.  Winner and their designated guest must travel together on same itinerary in both directions, to and from designated cities awarded. Extensions to the expiry dates or changes to flights, destinations and or passenger names are not permitted, once the booking has been confirmed.  No credit reimbursement will be provided if the Grand Prize is not used.  Grand Prize may not be redeemed nor exchanged for cash or flight credit.  Grand Prizes are non-transferable after booking. Partners of this contest are not responsible for any delay, postponement or cancellation, for any reason, of any flight(s), event(s), exhibit(s), or attraction(s) forming part of any prize.  Grand Prize cannot be combined with any other promotional offer or offers provided by the Partner/Sponsor. All expenses other than those mentioned above are the winner's responsibility and his or her guests.
9. Prize is non transferable after booking, nor is it redeemable for cash, flights must correspond with the 2019 Apple Blossom Festival.
10. Entrant must be a Canadian citizen and the age of majority (19yrs) at the time of entry to be qualified for the Grand Prize.
11. The Come Home for the Festival promotion is open to everyone 19 or older, with the exception of employees and immediate family of AVR, Magic 949, CKDY, Maritime Travel, associated partners and supporting sponsors.
FILL OUT YOUR BALLOTS TODAY AT THE FOLLOWING LOCATIONS:

Light Touch Laser – Kentville & Greenwood
GW Sampson – Kingston
Royal LePage Atlantic – New Minas, Windsor, & Greenwood
Chrismaria Family Restaurant – New Minas
TJ's Convenience – Aldershot
Valley Credit Union – New Minas, Canning, Cambridge, Hantsport, Greenwood, Middleton, & Bridgetown
Maritime Travel – New Minas, Kentville, Bridgetown, & Digby
Magic 94.9 Studios – Kentville