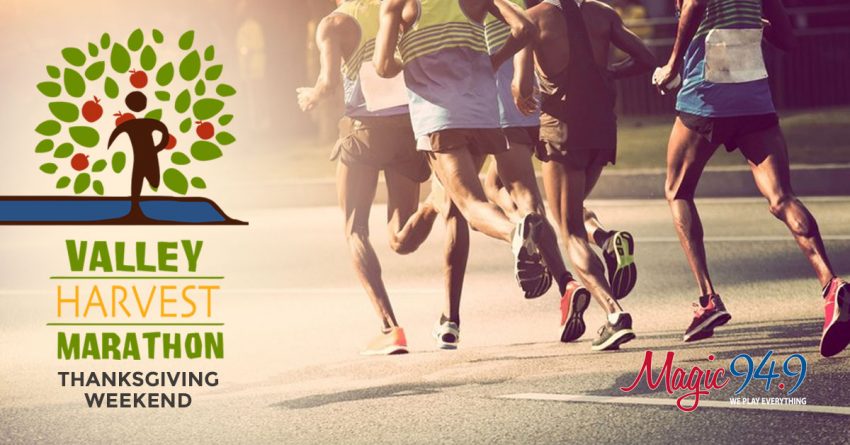 Valley Harvest Marathon Road Closures
It's the 27th annual Valley Harvest Marathon! Kids run Saturday, followed by the 5K to Ultra Marathon Sunday!
Find out more and register here!
*Keep in mind the marathon brings road closures. Please be patient, and take alternate routes where possible, so everyone can have a safe and fun race day Sunday! Feel free to cheer on the participants if you're along the run routes and get involved with the race! All road closures and parking restrictions will take place on Sunday morning (Oct.13th) with Main Street Wolfville, and Route #358 being the primary road closures. Road closures in Wolfville HWY #1 between Harbourside Drive and the #358 intersection in Greenwich will begin at 7:15a.m. and finish up by approximately 9:30 a.m. Route #358 between Greenwich and Kars Street Port Williams will be closed between 7:30 and 10:30a.m.
Participants: Parking restrictions will also be in effect in the town of Wolfville during the day on Sunday. The Valley Harvest Marathon is asking participants to check www.valleyharvestmarathon.ca for a complete list of road closures and a parking map. The Valley Harvest Marathon also asks participants to not park in local church parking lots. If you're a participant travelling into Wolfville, be aware there is construction happening at exits 10 and 11 on Highway 101. Participants travelling from west of Wolfville are encouraged to use exits 11A or 12. There will also be detour signs in place to direct early voters to the advanced polls at the Lion's Club (36 Elm Street, Wolfville) on Sunday.
List of Road Closures: Sunday, Oct. 13th
Route #358, from Greenwich to Kars Street in Port Williams
From: 7:30am to 10:45am. The best route to Port Williams and Canning from Highway 101 will be exit 12 across Middle Dyke Road.
Wellington Dyke Rd
From: 7:45am to 10am
Hwy # 1, Main Street, Wolfville will be closed between Harbourside Drive and the intersection with Hwy 358 in Greenwich.
From: 7:15am to approximately 9:30am.  Consider using Ridge Road as an alternative route.

Please be aware that there is construction at Exits 10 and 11 on Highway 101 and you should expect delays. Participants coming from Digby County and further West along the 101 should use exit 11A or 12.
The advance poll at the Wolfville Lions Club (36 Elm St., Wolfville) will be open 9am to 9pm Sunday and voters may access the poll by following the Elections Canada signs on the detour route.
~Amanda