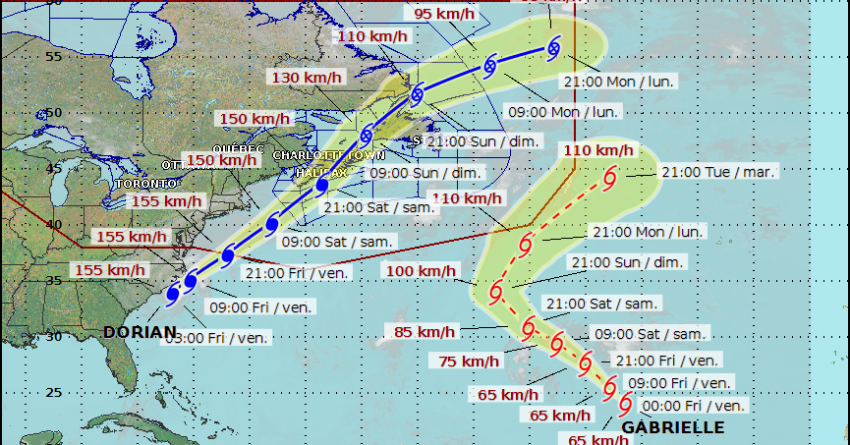 Preparing For Hurricane Dorian
After pounding the Carolinas Dorian is heading out to sea and rushing towards the Maritimes.
The Canadian Hurricane Centre says a hurricane watch is now in effect for most of the province. The most likely track projection would bring the centre of the storm over the Eastern Shore of Nova Scotia late Saturday. The forecast calls for high winds and heavy rain to have major impacts for all of Nova Scotia and PEI and southeastern New Brunswick as well as Newfoundland and Labrador.
The heaviest rains will be near and to the left of Dorian's track in the 50-100mm range with local amounts of 150 possible just to the left of the eye possible. That'll mean flash flooding and road washouts, especially with the ground saturated with the rains from Erin last week.
The strongest winds will be near and to the right of the track in the 120kph range…especially for Cape Breton.  And there will be dangerous surf along the atlantic coast so stay well back from the water.
Officials say people should not be complacent. Nova Scotia EMO says people should ensure they have enough food, water, medication and supplies for at least 72 hours.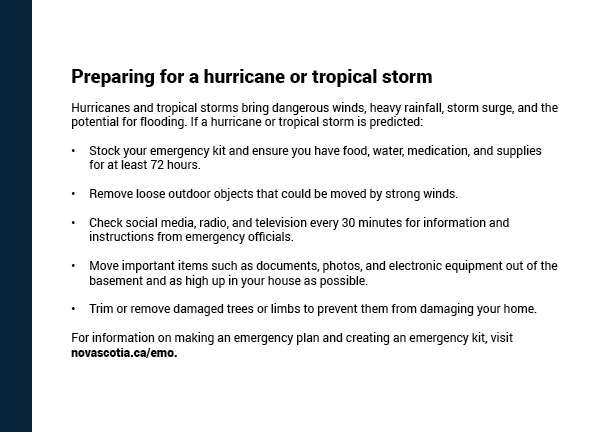 Nova Scotia Power will open its Emergency Operations Centre at noon today and has a thousand people ready to respond to Dorian. They know there are going to be a lot of trees full of leaves blowing onto power lines.
~Amanda